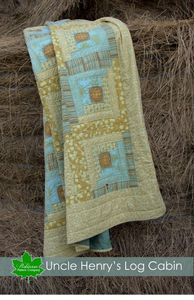 Robinson Pattern Company
Uncle Henry's Log Cabin Quilt - Digital Download
Regular price
$6.95
$0.00
Unit price
per
One of my favorite places to visit and explore was my Uncle Henry's home. My Uncle Henry is a gifted carpenter, and when he wanted to build his dream home deep in the woods, he wanted it accurate. He was distressed by the fact that a 2 by 4 piece of lumber isn't actually 2" x 4", but rather 1 ¾" x 3 ½". So his solution was to start his own lumber yard, and produce accurate lumber to build his home, and to offer this wood to others. So in his honor, I have created this classic log cabin quilt, with a 4" center, and 2" logs. I believe my Uncle Henry would approve.

The full color instructions will walk you through each step of making the finished quilt. There are two sizes for the quilt. (The only size difference is an additional outer border for the queen size) The finished size for the double quilt is 80" x 96", and the finished size for the queen quilt is 88" x 104".

We can now offer this great pattern as an instant download. That means that you will be able to purchase it from anywhere in the world, at any time of day, and instantly have it on your computer. Simply follow the instructions after you purchase this listing, and you will have the pattern.
---
Share this Product
---